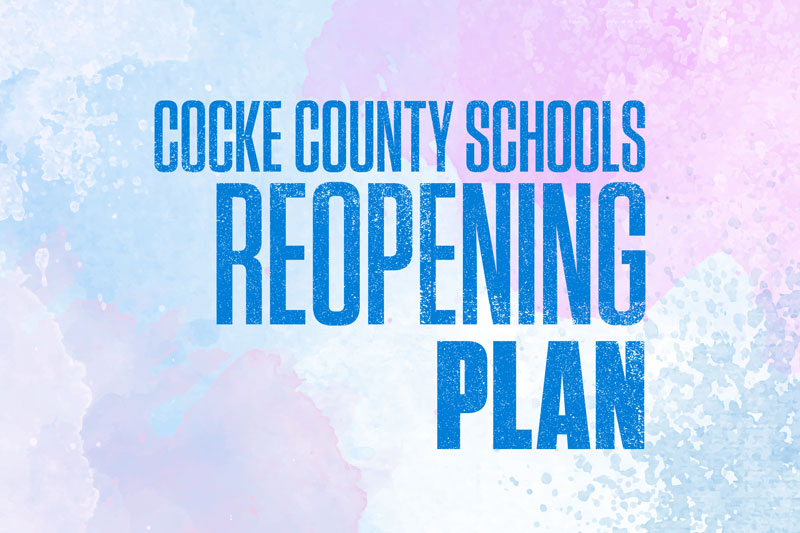 22 Jul

Cocke County Schools Reopening Plan

(Updated July 20, 2020)
Learning Options for Families
The Cocke County School System will provide two learning options for our students and families. These two options are Traditional Learning in the school building that will have some safety modifications, or Remote Learning completed at home through the options listed in the Remote Learning Handbook.
Parents Timeframe for Learning Option Selection
Parents who want their child to return to the brick and mortar building to engage in traditional learning in the classroom setting will be contacted by their school's principal or teacher the week of July 27th to determine the exact day their child will start attending class.
Remote Learning Option
Parents must complete the registration form online by July 26, 2020. Please review the Remote Learning Handbook and print off the Remote Learning Contract. The contract is to be signed and is due at the student's base school by July 31, 2020.
Traditional Learning Option
Traditional teacher lead instruction will begin in Cocke County on August 3rd. The district will begin with a staggered start of only 1/3 of the students in grades 1-8 and all of the 9th grade attending on Monday. All remaining students in grades 1-12 will be remote learners that day. On Tuesday the 4th the second 1/3 of grades 1-8 and 10th graders will attend. The students at home that day will be remote learners. On Wednesday the 5th the final 1/3 of grades 1-8 along with 11th and 12th graders will attend school. Students at home will be remoter learners. The school principal or teacher will contact parents with information about when kindergarten and preschool students will attend.
There will be no school on Thursday the 6th and Friday the 7th due to the Election and Teacher in-service. The decision to return to school Monday the 10th on a regular schedule or continue a staggered schedule will be announced on Friday the 7th. Student schedule information will be located on the school district website www.cockecountyschools.org, Cocke County Schools Facebook page, Twitter @CockeCoSchools, Instagram @CockeCountySchools and via individual school's direct communication including texting applications. Current contact information is critical to the communication of information. Parents should provide current contact information to their child's school.
Traditional Learning will start out very different this year. We are in a Covid-19 environment therefore we must all adapt and being Covid Learners. This means the first days or weeks of school will be used to teach students and parents how to be remote learners in the event a modified schedule is deemed necessary. If there is a surge in cases or new health guidance for our county or state, parents who choose the Traditional option should be prepared for the intermittent closure. If the health updates indicate moderate risk of COVID spread, students may be directed to attend school on a blended or modified schedule where they would attend classes at school on designated days and learn from home remotely with Cocke County teachers on other days. The blended schedule reduces the total number of students in the school building at one time. During times of blended scheduling, students will follow a designated schedule where they have specific days to attend school physically and specific days to attend classes remotely. All employees will continue to work every day at school even if the district moves to a blended or modified schedule. If conditions are considered at a level of high risk for COVID spread, classrooms, buildings, or an entire school may transition to remote learning for extended periods of time during the 2020-21 school year. There could be pauses to in person instruction for your child, your child's teacher, your child's classroom, or your child's school however, remote learning and educational services will continue. The decision to transition to remote learning will be determined by school officials in respect to consideration for the safety of all students and staff. Parents and families will be notified when a transition from traditional to remote learning is necessary. In an effort to avoid interruptions to instruction students in the traditional option may experience times when all students are in the school every day; periods when students attend school on designated days and with remaining instructional days delivered remotely: as a final option all students may receive all instruction remotely. Employees may be "repurposed" during the 2020-21 school year. This applies to all employees. For example, it is possible that some teachers and/or educational assistants will be transitioned from their current school for assistance with remote learning. This is just one of many ways that the Director of Schools may repurpose employees during the 2020-21 School year.
Option for Remote Learning
Please see the Cocke County Schools Remote Learning Handbook located on the Cocke County Schools website at www.cockecountyschools.org. Learn More
School Nutrition
Lunch schedules may be adjusted to maximize social distancing.
Students may have lunch in cafeteria, gym, classrooms or other location. This will be determined by school officials and shared with parents. The lunch location may change. For example, we may start serving lunch in the cafeteria but later decide to transport meals to classrooms.
Visitors will not be permitted in school cafeterias.
Students enrolled in remote learning will be encouraged access school meals curbside. Additional information for nutrition for remote learners will be provided at a later date.
Transportation
All buses will run on a regular schedule.
Students will be assigned a seat.
Masks are strongly recommended for students on buses and will be provided.
Masks may be required if COVID spread risk is at increased level.
Buses will be sanitized after morning and afternoon routes.
Hand sanitizer will be provided on buses.
Parents are strongly encouraged to transport their own child to school when possible to support social distances.
Sanitization School environment
Our system safety recommendations and plans include, but are not limited to:
All custodial staff will receive professional development in cleaning and sanitation in all high touch and high traffic areas.
All teachers will participate in professional development and be expected along with students to maintain a clean and sanitized classroom.
Classroom teachers will be provided appropriate materials for sanitization.
Increased cleaning and disinfection of all buildings will be a priority.
Face coverings or masks for students and staff are strongly recommended in school buildings and on buses;
Masks will be provided by school system for both students and staff
Masks may be required for staff and students for certain instructional settings and ADA
requirements;
Requirements for masks may be adjusted as indicated by traditional or blended schedule, number of active cases and other health updates; Masks may be required if health updates and conditions change. If changes occur and masks are required, all parents and students will be notified immediately.
There will be increased social distancing as feasible in classrooms, hallways, and buses.
Screening of staff and students daily at school will occur as indicated. At home screenings are essential for staff and students, therefore temperature checks will not take place at the bus stop.
Anyone with fever or symptoms will not remain at school. Those who exhibit Covid symptoms will be cared for in the designated observation room until they are picked up. If the parent is unable to pick up the child they will be transported by ambulance.
Frequent hand washing and access to hand sanitizer will be available for all classes.
Reduced class interactions and hallway traffic, group gatherings and movement throughout the buildings will be implemented.
Water fountains will not be used. Water stations will be provided for students to fill their water bottles.
Access to schools will be limited to essential personnel and students. If there are extenuating circumstances that necessitate a parent or guardian entering the school, approval must be given by the school administrator.
Any visitors approved by school administrators will be required to wear mask, have their temperature checked, and answer health screening questions.
Please visit the Cocke County Schools websites at www.cockecountyschools.org frequently for the latest updates to both Traditional and Remote Learning in the Cocke County School District.
Learn More