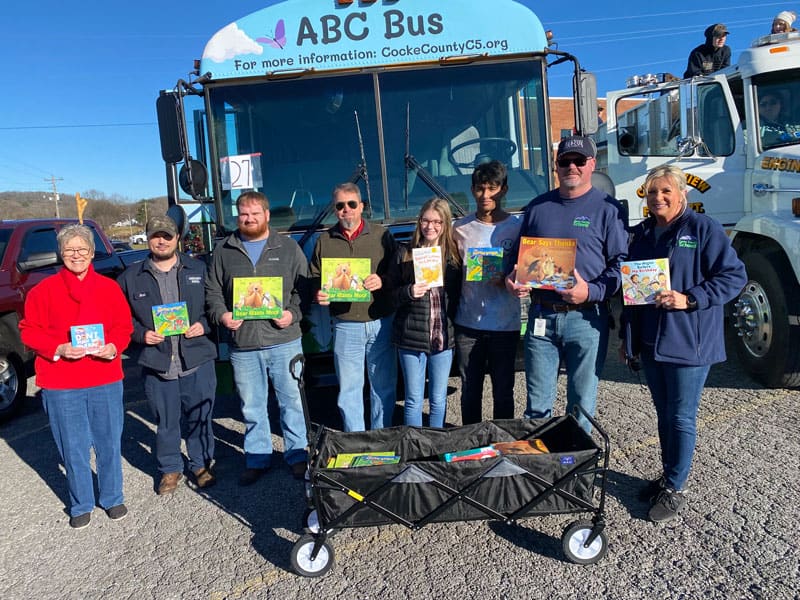 15 Dec

ABC Learning Bus

The ABC (Alphabet, Books, and Creativity) Learning bus is a mobile unit designed to provide an alternative learning space for children and students in Cocke County. Repurposing of the bus was made possible through a partnership between the Cocke County School System, Cocke County Cradle to Career Coalition (C-5), and Save the Children.

The Cocke County School System provided the bus, and funding provided to C-5 by Save the Children was used for the refurbishing. The bus is equipped with a new heat/air system, a generator to provide electrical outlets both inside and outside the bus, new LED lighting, and Bluetooth accessible speakers. Instead of normal bus seats, the inside of the bus has tables and chairs and storage cabinets, as well as new flooring. The bus has many purposes, including distribution of books, learning resources, and even food, as well as creating a learning center in community locations.

The ABC bus was part of the Cocke County Christmas parade on Sunday, December 12, 2021. Director of Schools, Manney Moore, along with Assistant Director, Casey Kelley, Family Resource Center Director, Diana Samples, Supervisor Special Projects, Kathy Holt, bus garage staff, Matt Elkins, and students Leah Kelley and Gage Faison walked with the bus and distributed books and toys. Almost 400 books, along with over 100 toys and other items were distributed to children along the parade route. Jake McClanahan drove the bus.