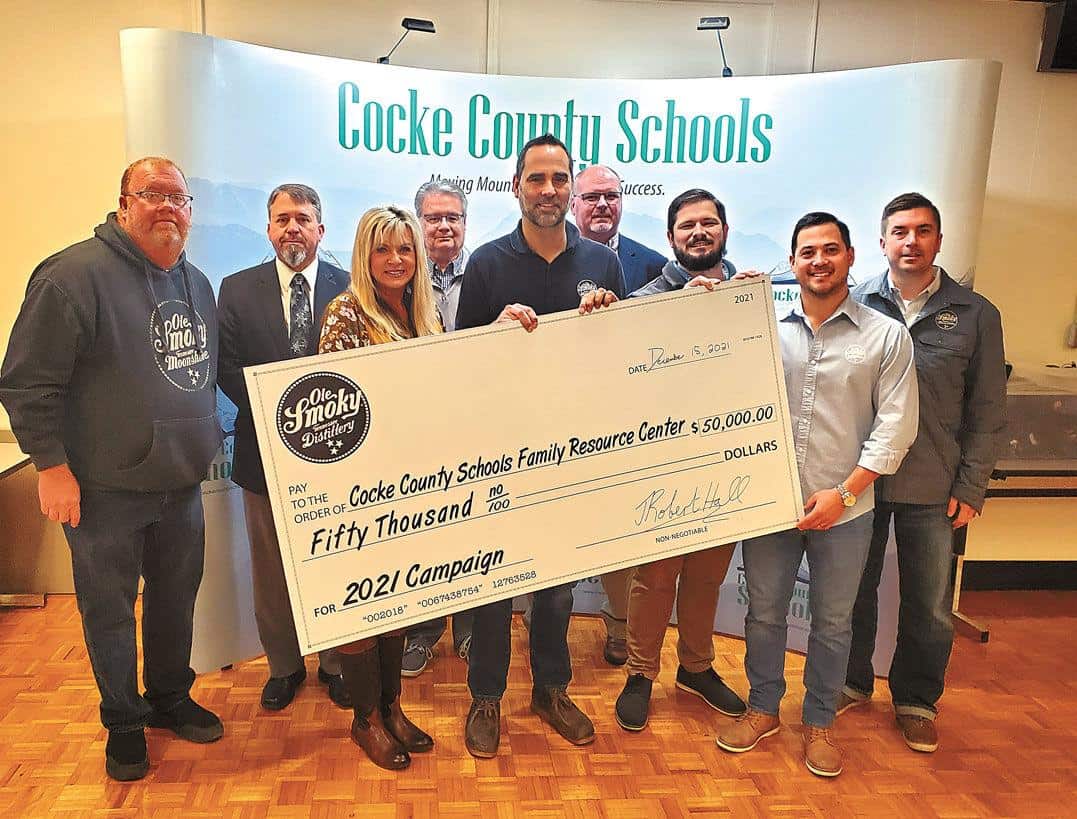 17 Dec

Ole Smoky donates $50,000 for Cocke County Resource Center

Cocke County Schools Resource Center Director Diana Samples has seen the best and worst of circumstances in her three years with the system.

With Cocke County Schools students facing various stressors at home, Samples' office has seen increased use in the last couple of years.

Ole Smoky Distillery, with a location in Newport and its home Sevier County base, presented Samples and the school system with a $50,000 check Wednesday to help the resource center with its mission of helping students.

Cory Cottongim, president of operations and consumer experience, announced the award at Cocke County High School.

"We started in 2019 here and we've been growing ever since," he said. "Our presence has grown here every year."

Cottongim said that the Newport facility has more production square footage in Newport than in its home base of Sevier County.

"It's good because we always tried to give back to kids," he said. "The Cocke County Partnership has been good to work with here."

The Newport facility, which has four buildings, is located in the Cocke County Industrial Park. There are more than 200 employees and Cottongim said the company is "always hiring."

"We're expanding over there," Cottongim said. "We're putting a lot of production lines in, bottling fruit right now."

"It speaks volumes with you all giving back to the community as much as you are," Samples said.

She has used some of the money so far for clothing, food, help with housing and transportation.

"I never know from one day to the next what the need is going to be," Samples said. "Within the school staff, principals, teachers and counselors, we try to identify what is keeping a student back from learning and attending school. We try to take care of that need, whether they need mental health, help with transportation, not getting fed when they get home.

"If they have all of these stressors, they're not going to be able to come to school and learn, so we try to take care of those needs," Samples said.

Samples said that she works with a really good team, including the truancy board, administration, student support staff within the school system, counselors, teachers and principals.

"We all work together," Samples said. "There are a lot of caring people in the school system."

Before joining Cocke County Schools, Samples was a nurse for most of her life. When Samples joined the system, she was baptized by fire, with the first year being trial and error, and last year being COVID-19.

"It keeps me hopping," she said.

Samples said that there are a lot of needy and homeless children in Cocke County. That situation may become direr with the recent closing of Conagra, in Newport with increased use of the resource center.

"We don't have any type of homeless shelters and our housing authority's waiting list is a yearlong," Samples said. "We have a lot of families who are living in campers or the hotels, which is not cheap. You can get a house payment cheaper than staying in a motel a month in Newport."

Earlier this year, the family resource center got a grant for three food pantries. The grant was used to purchase four storage units to serve different areas of Cocke County. Locations are at Smoky Elementary, Northwest Elementary and two at Three Rivers Learning Center. Food is purchased through a local business.

"The storage units can serve several different communities," Samples said. "If we need to, we can take (food) to the house."

There have been more than 200 names turned in for the Christmas Kids program, another program administered by the resource center.

"It would break your heart to see the requests some of the kids have," she said. "Some have asked for a blanket or socks."

State Farm Agent Angela Grooms has helped with the Christmas Kids program. The Jeepers' Club has bought for 140 children.

Samples does all of this with no money in her budget, she is funded strictly through donations.

To donate to the Cocke County Family Resource Center, mail a check to 210 Hedrick Drive, Newport, TN 37821. Call 423-625-9615.